Did you grow up getting some kind of book or magazine monthly? I did and I just L.O.V.E.D it! It was so exciting when you knew it was about the time of the month when it would arrive. Now I …
Sweat Shop Paris: Lessons from a Sewing Cafe by
Martena Dusss and Sissi Holleis is a really fun and inspiring book. It most definitely has the "Paris" look. Which I totally loved as someone who craves other culture's creative spirit! …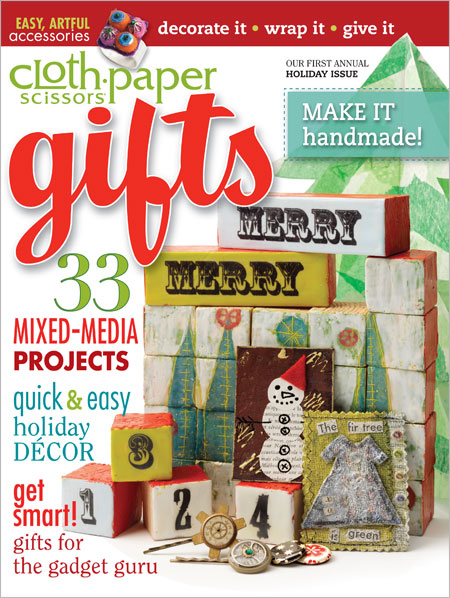 My oh my! This issue of Cloth Paper Scissors Gifts 2010 from Interweave has it all! Super projects in virtually all mediums that generally include at least one element that's recycled. I think my favorite section was on all the …
Fantastic Recycled Plastic: 30 Clever Creations to Spark Your Imagination
by
David Edgar and Robin A. Edgar
Let me start by saying my background is Industrial Design so I know about how much effort goes into designing manufactured packaging. It …
I love this book! As someone who can look at virtually any bit of this or that and find value (or at least an attribute that would make it a good crafting material) Eco Books: Inventive Projects from the Recycling …
First can I say I just giggle because I still get a thrill out of meeting someone I first get to know through a book that is written about their personal experiences and then get to meet in person. I …
The creative and talented people of Stampington & Company have done it again! Their magazines (which I think are the quality of a book really) are just beautiful and so inspiring. Green Craft is no exception! Would you like to …
Hand Me-Ups: Recrafting Kid's Clothes with Easy Techniques and Fun Designs
By Lorine Mason
What I liked about this book was the use of really good sewing techniques to make very nice looking projects. Often times when you are working …
Upcycling, Deconstructing, and Reimagining the Book
I was so "torn" when I first read this book, I couldn't decide whether savor each page slowly and absorb all the details or keep furiously flipping each …
Upcycled Accessories: 25 Projects Using Repurposed Plastic
By
This book should be called the "Encyclopedia of plastic bag recycling" it is packed full of techniques using recycled plastic bags and then once you have tried all the cool …
OK you may be asking yourself why is this book review of Steampunkery in the Recycled Crafts section? I'll tell you. One of the cool aspects of the Steampunk  style is the reuse and recycling of old elements in new …
Refashioned Bags: Upcycle Anything into High-Style Handbags
By
Faith Blakeney and Justina Blakeney
We all carry bags so why shouldn't they be as unique and creative as we are. The way to make them that way is to make them …
Build It! With Pallets is a fun little book. If you are a handy sort and like to build stuff out of found wood pallets this is a great source for how-to projects. There are great instructions with nice little …
1000 Ideas for Creative Reuse
Remake, Restyle, Recycle, Renew
By
Garth Johnson
OK so you are into recycling and crafting. Want 1000 really cool ideas? This is the book for you.
It is the kind of book that just gets …
Craftcycle: 100+ Earth-Friendly Projects and Ideas for Everyday Living
by
Heidi Boyd
Let me just say I love this book for it's comprehensiveness.
It covers all sorts of crafts (and for us hobby surfers this is a big plus!)
It …
« go back
—
keep looking »